Go Behind The Scenes
Getting involved with the Hearst Museum is a great way to gain experience and create new connections. Find an opportunity that fits with your interests and availability by checking out the programs below.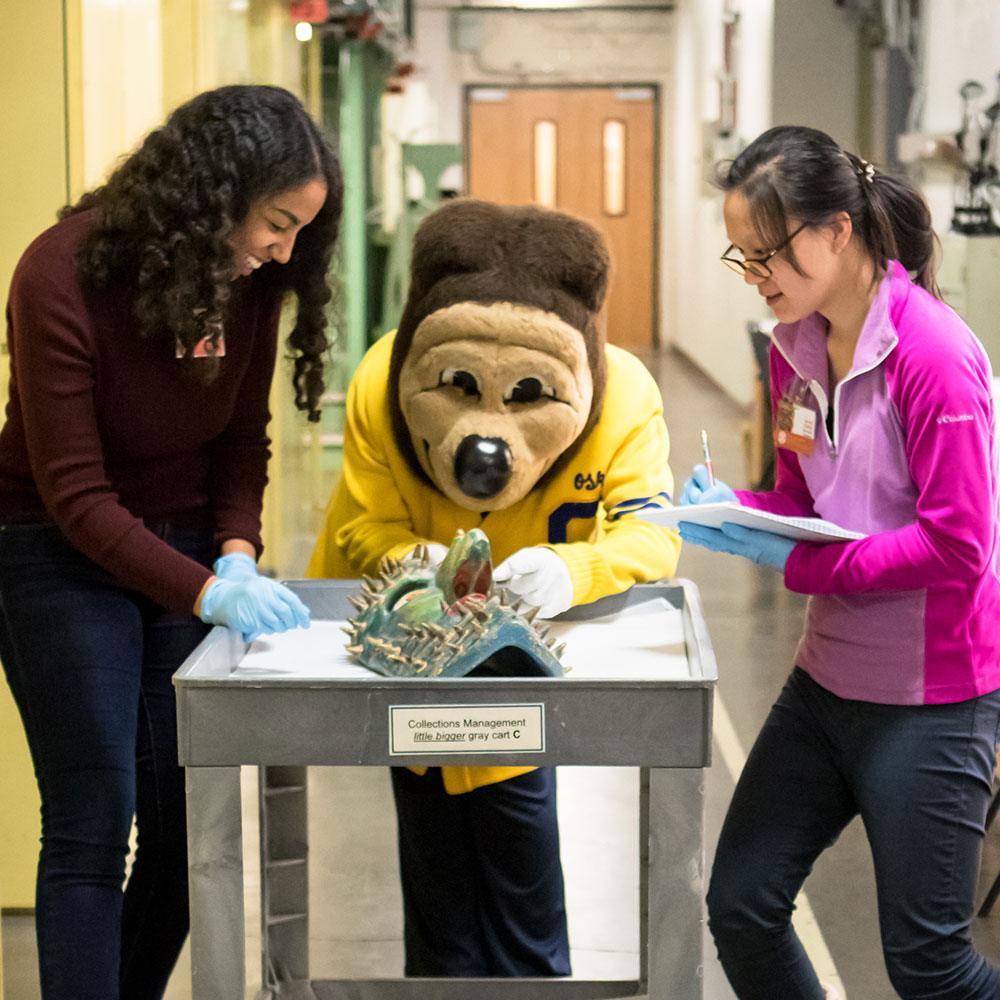 Berkeley Undergraduate Research Apprenticeships
There is a research experience for everyone at the Hearst Museum, ranging from beginning positions with no experience necessary to more advanced positions requiring specialized skills and knowledge.
The Hearst Museum offers many exciting opportunities for Berkeley undergraduates to work with museum faculty, staff, and curators through the campus's Undergraduate Research Apprenticeship Program (URAP). The Museum seeks motivated students who have interests that fit well with its research and collections areas.
Students apply to URAP positions at the start of each semester. Click here to check out our current projects.
The URAP program is for enrolled UC Berkeley undergraduates. If you are not an enrolled Berkeley undergraduate and you are interested in volunteering, please see the Volunteering & Internships section below.
Work-Study Positions
The Hearst Museum offers multiple funded work-study  positions for Berkeley students. To review current positions, visit the Work Study Job Listings site and search for the Hearst Museum.
Volunteer Positions & Internships
The Hearst Museum recognizes the valuable contributions made by volunteers toward its mission of preservation, interpretation, research, and understanding of its collections. It acknowledges the multi-talented individuals of the Bay Area and supports their commitments to share their time, skills, and knowledge in support of the Museum's work. Submit your volunteer application today.
Museum Related Berkeley Courses
Spring 2018
Cultural Policy: Cultural Heritage and Cultural Diplomacy
This course frames museums within issues of cultural heritage (repatriation, the international traffic in antiquities, intangible cultural heritage) and cultural diplomacy (implementation of the UNESCO Convention, development and circulation of collaborative international exhibitions). Students will gain a basic understanding of the structure of western museums; the history of the universal museum; relationships between cultural property and national identity; and contemporary cultural policy issues.
Rhetoric of Material Culture
Where did the first collections originate? Why did people begin to collect? How did–and do–museums and museum collections contribute to the definition of the cultural values/power of elite groups? How do we define ourselves–as citizens, as members of a discipline or tribe, as nations–with reference to collections? What values/ideologies structure the debates and conflicts over definition, meaning, and ownership of collections? These are questions we will try to answer in the class.
Examining U.S. Cultures in Place
Indigenous California History, Literature, and Art
In this course, we will examine the indigenous history, literature, and art of California, with an emphasis on northern California. We will read primary works by Native California writers, look at the artwork of Native California artists, and learn about the history and cultures of indigenous people in California. In addition, we will schedule visits to the archives of the Phoebe A. Hearst Museum of Anthropology and the Bancroft Library here on campus as well as historic sites and cultural institutions locally. We may also go on a field trip or two.
Undergraduate Seminar: Latin American
Undergraduate Seminar: Beyond El Dorado: Materials, Values, and Aesthetics in Pre-Columbian Art History
Legends of indigenous American gold seduced European voyagers in the sixteenth and seventeenth centuries. Spanish conquistadors and others including Sir Walter Raleigh were taken in by tales of cities of gold and other stories, for example of a king called El Dorado ("the Golden One") in Colombia who would cover himself entirely in gold dust. There was truth to many of the stories. The last Inca king Atahualpa ordered a room filled with gold objects, and then filled again twice with silver, to pay his own royal ransom to Pizarro. In Mexico, Cortés and his allies melted Aztec gold ornaments down into bullion to be remitted to Spain. But some goldworks survived the conquerors' hungry crucibles and entered European collections intact. Upon seeing some of the first Aztec goldworks brought to Europe, the artist Albrecht Dürer marveled at their artistry and "the subtle ingenuity of men in foreign lands." Other objects have been recovered from Caribbean shipwrecks and from archaeological excavations in places like Mexico City, Yucatán, and Panama. Still today, the allure of Pre-Columbian gold resounds in popular culture, literature, and film. But not all that was of great material value was gold in the Americas. In this seminar, we will explore indigenous art, materials, and aesthetic qualities, including many that were often valued far more than gold and silver. We will investigate how greenstone, colorful shells, and fine textiles often had greater economic and cultural value in ancient societies of Mexico, Central America, and Andean South America. In addition to studying the histories of ancient objects, we will engage with the latter-day histories of collecting, reception, and display that have come to color contemporary understandings of Pre-Columbian art. This seminar is designed to correspond to the international exhibition Golden Kingdoms: Luxury and Legacy in the Ancient Americas, on view through January 28, 2018 at the J. Paul Getty Museum as part of Pacific Standard Time: LA/LA. Grant-funded travel to Los Angeles (by air or ground) in January 2018 will be a required component of this course.
Thinking Through Art and Design @Berkeley
This course introduces students to key vocabularies, forms, and histories from the many arts and design disciplines represented at UC Berkeley. It is conceived each year around a central theme that responds to significant works and events on the campus, providing an introduction to the many art and design resources available to students on campus. Students will compare practices from across the fields of visual art, film, dance, theater, music, architecture, graphic design, new media, and creative writing, and explore how different artists respond formally to the central themes of the course, considering how similar questions and arguments are differently addressed in visual, material, embodied, sonic, spatial, and linguistic forms.
Seminar in Material Culture: The Interpretation of Objects
Mellon Graduate Seminar: Material Culture: The Interpretation of Objects
This seminar looks at both material culture theory and the many ways scholars understand, 'read,' and interpret objects. It draws on the practices and questions of multiple disciplines including archaeology, anthropology, cultural geography, and art history. It considers painting, architecture, works on paper, textiles, metal objects, ceramics, clothing, baskets, and objects of wood, We will consider the variety of ways and contexts in which objects have been understood to 'speak' as aesthetic vehicles and as cultural texts. Taught by a faculty member who has extensive experience as a museum curator, this class will combine theory with hands-on learning. Students may enroll for 2 units (without final paper) or 4 (with final paper).
Theories & Methods for a Global History of Art
Simply put, art history is a history of image worlds, objects, and material practices. Could art history, then, help us better understand the haptic and visual potential of activist laser projections onto urban surfaces, the deification of the natural environment in ancient India, the sound of Arabic calligraphy, early modern European maps, or the kinesthetic of contemporary museum display? Co-taught by faculty with diverse specializations, Theories & Methods for a Global History of Art aims to do precisely that. The course is not designed to function as a history of world art or even a history of the discipline of art history, and it works very well as a complement to HA 100. By moving from the ancient to contemporary worlds, from the Americas to Asia, the course offers a toolkit for developing the required skills for visual analysis and interpretation. In the classroom, we will engage with major theoretical frameworks (for instance postcolonialism, feminism, and sexuality studies), critical methodologies (for instance formalism, sensory histories, and anthropology), and key concepts (for instance artist, mimesis, avant-garde). Our discussions in the classroom will be complemented by trips to local museums and built sites (for instance the Sustainability Walking Tour on campus) to provide students with hands-on experience in fieldwork. At the same time, we will acquire a pragmatic foundation in framing research questions and writing papers in preparation for upper division coursework.
Special Topics in Fields of Art History
Why does Greek and Roman art and architecture matter?
Our graduate seminar will be an experimental workshop. To get to know each other we will present our recent work (research, article, etc.) in a short question-and-problem-driven paper. This will provide the basis to discuss which questions and topics in the field of Greek and Roman art, archaeology and architecture we would like to explore. To enhance cross-cultural debate we will invite Rahim Shayegan, Professor in Iranian and Director, Program of Iranian Studies (http://nelc.ucla.edu/person/m-rahim-shayegan/). If possible we will organise a trip to visit museum(s) with collections of classical and near eastern art – to study the real thing.
Independent Research
Institute for Field Research Summer Program
Join the 117-year old Phoebe Hearst Museum of Anthropology this summer as it reimagines its role as a place for scholarly discovery and community-based research. Students will be introduced to all aspects of museum work, from collections management and registration to philanthropy, cultural policy, and exhibit design. Students will also receive candid tours of select San Francisco Bay Area museums. Click here to find out more.