We Are All Anthropologists! – 6th Grade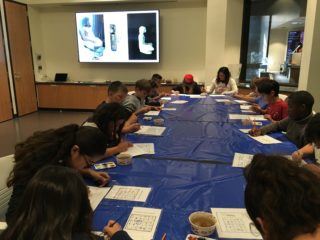 PLEASE NOTE: This program is on temporary hold as Hearst staff prioritize repatriation and caring for collections. In the meantime, please take advantage of our online educational resources at the Hearst from Home. You can also join our mailing list to receive updates on upcoming events, new resources, and museum news.
Whether we know it or not, we all have a bit of an anthropologist within us! The Hearst Museum is the ideal place for 6th graders to sharpen their anthropological thinking about ancient civilizations.
Our field trip program, We Are All Anthropologists, engages students with the tools of anthropologists in a variety of ways. With a focus on ancient Egypt, students get a behind-the-scenes look at UC Berkeley's top-notch research facilities and create objects inspired by the Hearst's vast collection. This is a perfect way to bring your curriculum to life. Field trips also include an optional UC Berkeley Campus Tour. We have designed this program to encourage empathy, curiosity, attention to detail, and perspective taking—crucial skills for many real-world purposes!
Cost: $10 per student (Free for students from Title I Schools)
Time: Thursdays and Fridays, 10am-1pm
Transportation: The Hearst Museum is accessible by BART and bus. Bay Area schools may be eligible for Transportation Funds from the Environmental Volunteers or Excursion Grants from Philanthropic Ventures Foundation. Schools from Oakland may be eligible for funding from the A to Z Fund.
Group Size: 30-60 students, 1 chaperone per 10 students
Sample Itinerary:
10:00am

Arrival

10:00-11:30am

Exploring Ancient Egypt

Behind-the-scenes museum tour

Hands-on hieroglyph workshop

11:30-12:15pm

Lunch

12:15-1:00pm

Campus Tour

1:00pm

Departure
Questions? Please contact us at pahma-education@berkeley.edu.