Cloth that Stretches: Weaving Community Across Time and Space
On view February 13th through June 21st, 2020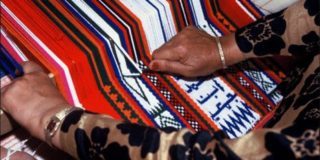 Textile makers around the world do more than create vibrant fabrics for innumerable uses. Their creations stretch in countless ways. They reach back in time—reviving old traditions—and forward in time, bringing countless innovations, and fusing cultural traditions. Cloth objects may reflect painful histories and the oppression of colonialism. Artisans therefore weave and stitch fabric that is much more than comfort, protection, and beauty. The textiles and objects in this exhibit, coming from 11 different parts of the world, each testify to the power of cloth.
What is more, our staff selected items that were donated to the museum in the past 10 years. Taken together, they demonstrate the Hearst's continuing efforts to document and conserve global heritage through material culture.
As you explore the objects and stories in this exhibit, we invite you to consider your own textile stories. What textiles are important to who you are, and how do the fabrics you use relate to global textile dynamics, for better or for worse?
Recordings of Related Events:
Learn to finger crochet using recycled materials from around your home and share stories while you craft during Crochet Jam.
Join a discussion on the importance of economic empowerment in the apparel industry with representatives from Fair Trade USA.
Find out how people in the late antique Mediterranean imagined beauty and the good life through images on domestic textiles with professor Diliana Angelova.
Online Exhibit
Didn't get a chance to visit the exhibit in person?  This guide contains images, stories, and highlighted objects from the collection that were on view.