Cloth that Stretches: Weaving Community Across Time and Space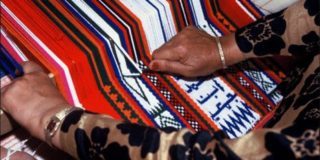 Textile makers around the world do more than create vibrant fabrics for innumerable uses. Their creations stretch in countless ways. They reach back in time—reviving old traditions—and forward in time, bringing countless innovations, and fusing cultural traditions. Cloth objects may reflect painful histories and the oppression of colonialism. Artisans therefore weave and stitch fabric that is much more than comfort, protection, and beauty. The textiles and objects in this exhibit, coming from 11 different parts of the world, each testify to the power of cloth.
What is more, our staff selected items that were donated to the museum in the past 10 years. Taken together, they demonstrate the Hearst's continuing efforts to document and conserve global heritage through material culture.
As you explore the objects and stories in this exhibit, we invite you to consider your own textile stories. What textiles are important to who you are, and how do the fabrics you use relate to global textile dynamics, for better or for worse?
This exhibit was on view February 13th through March 12th, 2020.
Online Exhibit
Didn't get a chance to visit the exhibit in person?  This guide contains images, stories, and highlighted objects from the collection that were on view.
From the Throat: Women's Textile Work & Memories of Disaster in Bangladesh
This talk looks at the forms of textile work as occupational therapy that were offered to displaced Bangladeshi women following the 1971 war alongside the development of contemporary NGO-supported handicraft work and ready-made garments labor.
Weaving Language: New Reflections on Corn Husk Bags
At a time when people are divided by the many challenges facing our communities today - a pandemic, racial injustice, climate change - this program offers a rare chance to build community through the tangible (objects in the Hearst Museum's collection) and the sometimes intangible (language and story) and inspire audiences to interpret the world around them through creative and intersectional approaches.
Cultural Representation & the Guadalupe Dress in "Heavenly Bodies"
In the fall of 2019, UC Berkeley professor Maureen Miller taught a course inviting students to examine the blockbuster 2018 exhibition at the Metropolitan Museum of Art entitled Heavenly Bodies. This program will feature Sofia Howard, a participant in the course, presenting findings from her research which critically explores the curatorial interpretation of a dress by Christian Lacroix, and the exhibit's overall failure to represent non-European Catholic cultures. Through dialogue, Howard and Miller will offer new perspectives on the exhibit and present opportunities for participants to find parallels between the dress in question, and global objects from the Hearst Museum's collection.
Eros and Dionysus: Love, Beauty, and Living Well on Late Antique Textiles
The ancient Mediterranean world was alive with textiles. Fabrics made of wool, linen and silk clothed bodies, defined identities, contained treasures, decorated streets and places of entertainment, and enlivened the homes of rich and poor. This illustrated lecture examines the craft, uses and significance of ancient textiles. Select pieces of the Late Antique Egyptian textiles from the Hearst collection will be discussed.
Fair Trade Now More Than Ever
Join Ashley Graham and Sumita Sarma of Fair Trade USA in conversation about the importance of economic empowerment in the apparel industry.
Crochet Jam at the Hearst Museum
Ramekon O'Arwisters, artist and founder of Crochet Jam, will show you the basic techniques and materials needed in preparation for a virtual Crochet Jam, or for making your own soft sculpture at home anytime. Learn how to finger crochet, then let go, and let the materials dictate what you create in this meditative approach to art.