August 5th, 2019 – October 2nd, 2019
On view in the lobby of Kroeber Hall
About this Exhibit
Initiated in 2017 by artist Heesoo Kwon, Leymusoom is an artistic, communal, performative, religious, and anthropological approach to integrating feminist practice into one's daily life. Conceived of as a religion, Leymusoom seeks to find new ways to create community and understand ritual. This practice was created as a response to her upbringing in a patriarchal, Catholic family in Korea and in part inspired by Korean shamanic practices wherein practitioners, often female, have the power to initiate new shamans who each in turn discover and create their own approach to their religious practice.
This exhibit features pieces created by members of the Leymusoom community over the past year. Joining, practicing and being Leymusoom means converting to feminism from patriarchy and creating and practicing personal/communal feminist rituals. Leymusoom practitioners create their own personal feminist practices and at the same time collectively develop communal rituals. They create books, sculptures, drawings, music and dance as vehicles that make feminism physically present in their daily lives.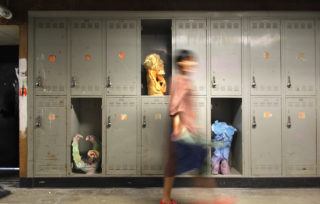 About the Artist
Born in South Korea in 1990, Heesoo Kwon studied business at Ewha Woman's University in South Korea and ran a patent business related to menstrual pads. She recently received a Master of Fine Arts degree at the University of California, Berkeley. She is the recipient of a 2018 Cadogan Scholarship Award and was nominated as 2016 Young Korean Artist by CICA museum. Her work has been exhibited widely including SOMArts, Root Division, Embark Gallery, 3rd MINIKINO FILM WEEK, CICA Museum, Feminism Media Artivist Biennale, among others.
Her work as an artist has been heavily informed by the trauma of patriarchal violence in Korean society. OBEY YOUR FATHER. It was a dictum that her grandmother reiterated on a daily basis. She was born in Catholicism and Patriarchy. She believed in FATHER. Kwon converted to Feminism from Patriarchy by inventing a feminist religion. Leymusoom is an Autobiographical Feminist Religion which also refers to its religious community, autonomous practitioners and movement to seek and define self-determining Feminism rooted in one's history. By Leymusoom, Kwon wants to identify how redefining Patriarchy as religion and converting to Feminism affects believers' lives and how different cultural/social background affects the way participants react to this project.