Community Research & Outreach
Individuals, delegations, and educators from communities with cultural connections to the materials in the Hearst Museum's care are welcome at the Museum. Artists, linguists, teachers, and cultural and religious authorities make frequent use of the Museum's collections of photographs, sound recordings, and archaeological and ethnographic material. Museum staff members also introduce visitors to other campus resources, such as the Bancroft Library, the Anthropology Library, the Ethnic Studies Library, and the California Language Archive where further information may be obtained.
For information on how to schedule a visit to the Hearst Museum, please visit our Collections Access page.
Visitors may also be interested in reading the 2019 working group report, Native American Collections in Archives, Libraries, and Museums at the University of California, Berkeley. The Museum recently collaborated with its campus peer units in the research and drafting of this report. After reading, you can submit your feedback here.
Created in 2013, the Hearst Museum's dedicated Native American Advisory Council (NAAC) is made up of individuals with a wide range of backgrounds– including tribal officials, scholars, museum professionals, and artists –from tribes throughout California and Nevada. Meeting four times a year, the NAAC advises the Museum on matters ranging from exhibitions, education, public programming, cultural policy, and traditional care. Please direct any NAAC-related inquiries to pahma-naac@lists.berkeley.edu
The Museum actively seeks opportunities to collaborate with descendant communities on projects on and off the Berkeley campus. Often, this cooperation takes the form of long-term partnerships involving the sharing of knowledge, support of ceremonial events and performances, loans, and exhibitions. Contact the Cultural Policy Division with your questions and ideas.
On-going Partnerships:
Breath of Life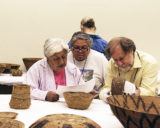 Breath of Life is a biennial workshop held in even-numbered years for the purpose of assisting California Indians in their language revitalization efforts. The week-long event introduces participants to California Indian language archives found across the Berkeley campus. As a co-sponsor, the Museum provides access to its numerous sound recordings, gives tours of the California basketry collections, and guides participants in researching and exploring the collections online.
Visit the Breath of Life homepage to learn more about their upcoming program.
Native American Museum Studies Institute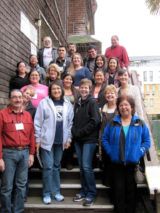 The Native American Museum Studies Institute (NAMSI) is a 4-day museum skills workshop for professionals and volunteers from tribal museums and cultural centers throughout the United States. Sponsored by the Joseph A. Myers Center for Research on Native American Issues, the Hearst Museum, and the California Indian Museum, NAMSI partners with presenters from museums, galleries, and cultural heritage programs around the Bay Area on a spectrum of museum-related topics. Typical courses range from educational programming to digital archives management to grant writing and fundraising.
Visit the NAMSI homepage to learn more about their upcoming programs