Welcoming Dr. Lauren Kroiz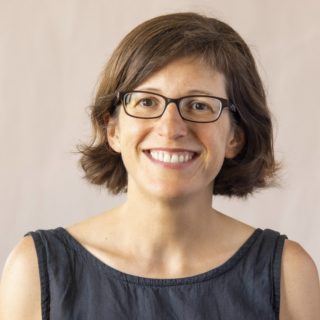 The Phoebe A. Hearst Museum of Anthropology is delighted to announce the appointment of Dr. Lauren Kroiz, who has been selected to serve as the museum's next Faculty Director for a five-year term, effective January 1, 2020, following a campus-wide search chaired by Professor Emerita Margaret Conkey.  Kroiz will succeed Dr. Benjamin Porter, who stepped down on December 31, 2019, and will join Executive Director Dr. Caroline Jean Fernald in the leadership of the museum.
Kroiz is Associate Professor in the History of Art Department where her research and teaching focus on art and modernism in the United States during the twentieth century. She is the author of Cultivating Citizens: The Work of Art in the New Deal Era (University of California Press, 2018) and Creative Composites: Modernism, Race, and the Stieglitz Circle (University of California Press, 2012). Kroiz's work has been honored by the Phillips Collection Book Prize (2010), the Society for the Preservation of American Modernists' Publication Grant (2011), the Patricia and Phillip Frost Essay Award (2016), the College Art Association's Wyeth Foundation for American Art Publication Grant (2016), the Terra Foundation for American Art's Visiting Professorship at Freie Universität Berlin (2018) and the Midwestern History Association's Jon Gjerde Book Prize (2019). She is currently at work on a project about whiteness and the visual culture of female suffrage. 
Since joining Berkeley's faculty in 2013, Kroiz has taught a range of topics in the history of American art, photography, material culture, and modernism, including courses on avant-gardism, race and representation,  technologies of imaging, and meanings of medium, and museum studies. She is a Faculty Curator of photography, paintings, and works of art on paper at the Hearst Museum, as well as affiliate faculty in the American Studies Program and the Center for Race and Gender. Kroiz is also active at the Berkeley Art Museum and Pacific Film Archive (BAMPFA) where she chairs the Academic Advisory Committee. In 2019, together with Associate Professor Leigh Raiford and the students from their graduate seminar, Kroiz co-organized the exhibition About Things Loved: Blackness and Belonging at BAMPFA featuring objects from its permanent collection and loans from the Hearst Museum.  
Kroiz plans to engage both graduate and undergraduate students from a broad range of disciplines in classroom and hands-on work at the Museum. And her scholarly and curatorial work evince a deep understanding of the impact of colonialism on practices of collecting, archiving, and displaying; this knowledge and critical acumen will serve her well in the Museum's work on repatriation and relations with Native American governments and communities.
The Hearst Museum aims to be a place where cultures connect in uncommon ways, through exciting exhibits of the rich holdings of the collection, through hosting object-based teaching and research involving scholars from our campus community and beyond, and through public education and outreach. Founded in 1901, at present the Museum cares for a collection of an estimated 3.8 million objects that span all six inhabited continents and two million years of human history. Its recently renovated 3,200-square-foot public gallery space hosts rotating exhibitions and draws visitors from campus and the Bay Area, including sixth-graders who attend the new field trip program, "We Are All Anthropologists." Inspired by its founder, Phoebe Apperson Hearst, the museum promotes the tools of humanists and social scientists, encouraging people to reflect on alternative perspectives, connect with others, and take action for positive change. 
Please join us in acknowledging Dr. Porter for his remarkable leadership and scholarship over the last five years, and in thanking Dr. Kroiz for her enthusiasm as she takes on this important role.