In Remembrance Of Michael J. Harner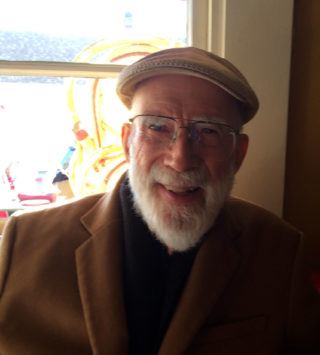 Michael J. Harner (1929–2018)
A long-time friend of the Hearst Museum, Michael James Harner passed away on February 3rd, at the age of 88.  In 1950, Harner came to UC Berkeley to study archaeology.  Between 1951 and 1955, he excavated at several prehistoric sites in California and the Southwest, most notably, a large walk-in well at Bouse, Arizona, in the summer of 1952.  He was one of Alfred Kroeber's last students, collaborating with his mentor on a 1955 publication on Mojave pottery.
Shifting his interest to the living peoples of rain-forest South America, in 1956–57 Harner conducted ethnographic fieldwork with the Shuar (Jivaro) people of eastern Ecuador.  He returned to the museum with a substantial and well-documented collection of artifacts and sound recordings.  Between 1961 and 1964 he made several additional collecting trips among related peoples of Peru and Ecuador.  This research became the basis for his 1963 doctoral dissertation:  "Machetes, Shotguns, and Society:  An Inquiry into the Social Impact of Technological Change Among the Jivaro Indians."
At the then-Lowie Museum, Harner served as Senior Museum Anthropologist (July, 1961–63), Assistant Research Anthropologist (1964), and Assistant Director and Associate Research Anthropologist (1965–66).
During this time, Harner co-curated with Albert Elsasser, research archaeologist, two very important exhibits:  The Dreamers:  A Contemporary California Indian Religion (1964), and Art of the Northwest Coast (1965).  Devoted to Kashaya Pomo ceremonials, the former grew out of Samuel Barrett's film project and his long-term relationship with healer and weaver Essie Parrish.  Significantly, it was an early presentation of contemporary California Indian culture and culture change.  Art of the Northwest Coast, a major exhibition combining international loans with Hearst Museum collections, was an important contribution to scholarship of this regional art style.
It was through the Hearst Museum that Michael Harner met Sandra Dickey, a student in the Design department, then researching the museum's collection of knotless netting from South America, including Shuar collections made by Michael.  On July 16, 1966, Museum preparator and Buddhist priest Kanmo Imamura officiated at their marriage.
After a year of leave while at Columbia University (1966–67), Harner resigned on May 15, 1967, in order to remain in New York.  Between 1970 and 1987, he taught at the New School for Social Research in New York, before returning to California to direct The Foundation for Shamanic Studies in Marin, which he begun earlier.  He was the author or editor of four important books:  The Jívaro:  People of the Sacred Waterfalls (1972), Hallucinogens and Shamanism (1973), The Way of the Shaman:  A Guide to Power and Healing (1980), and Cave and Cosmos:  Shamanic Encounters with Another Reality (2013).
In 2002, Michael Harner was invited to share his memories of the museum in a symposium commemorating its centennial.  Ever since his arrival in Berkeley, Michael Harner has been a devoted friend and supporter of the museum.  His loss will be deeply felt at the Hearst Museum.